Driveway gate openers can offer an additional layer of security to your home, place of business, or other commercial property. The addition of an automatic gate opener not only adds another layer of protection but is also an immeasurable added value in convenience. However, figuring out the best automatic gate opener for your purposes can take time and effort.
There are many different types, makes, and models of automatic gate openers (or automatic gate operators) and gate openers with a swinging gate, sliding gate, vertical lift gate, and barrier arm gate. Then there are single-swing and dual-swing gates, barrier gates, and solar gate openers to consider. Speaking of solar power, you will also have to consider your power source and how you will manage a potential power outage. So many great choices on the market can make sifting through all the options to find the best automatic gate opener for you can be overwhelming.
Depending on how you plan to use your automatic opener (or automatic operator), the price and functionality can fluctuate greatly. Residential and light commercial use gate openers can retail between $1,200 and $3,500, whereas a heavy-duty industrial gate opener (or industrial gate operator) can sometimes cost over $25,000. Below we have a breakdown of the best automatic gate openers (or best automatic gate operator) on the market for sliding, swinging, barrier, and solar gate openers.
Sliding Gate Operator
Sliding gates provide high security for residential and light commercial use areas. A sliding gate opener restricts access to vehicles, pedestrians, and animals. Additionally, these driveway or fence gate openers are not prone to damage from high wind and other environmental factors that can be an obstacle for swing gates. If you have concerns about space, then an electric slide gate opener (or slide gate operator) may be the right solution for you.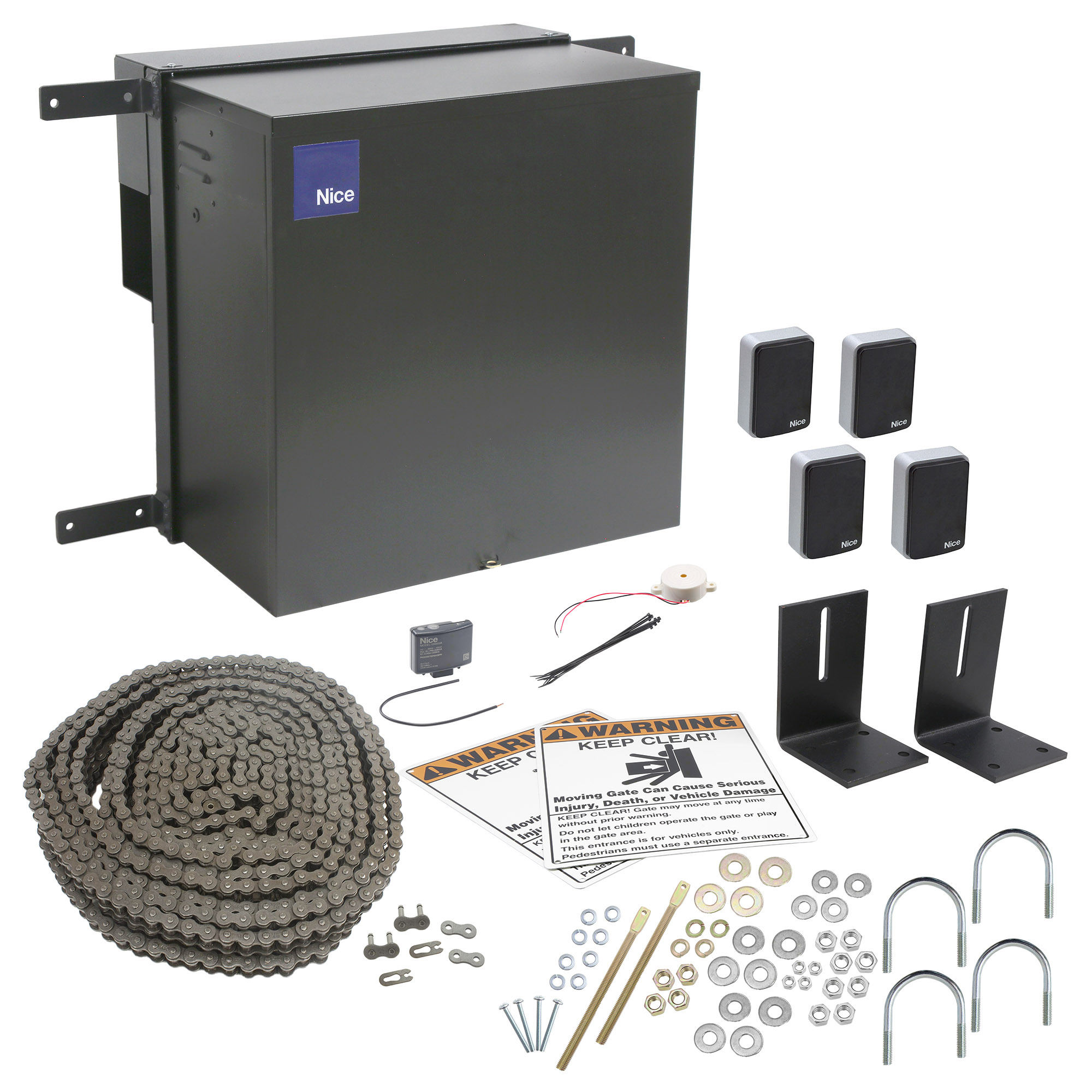 Nice Apollo 7251 Commercial Slide Gate Opener 7251 - Post-Mount Slide Gate Opener
The Nice Apollo 7251 slide gate opener is a best seller for both commercial and residential sliding gates. Nice Apollo is a trusted brand internationally and known for its durability. This gate opener type is rated for heavy and is easy to install. It features an LCD screen making it easy to program, diagnose, and troubleshoot during operation. There is an innovative obstacle detection system integrated for safety. Additionally, the smart management of the battery charging system and an integrated seven-day timer make for a simple user experience. Encased in a durable and corrosion-resistant cover, the slide gate operator 7251 is a great choice.
Swing Gate Opener
Swinging gates are perfect for residential homes that need a medium level of security. These automatic gates are more economical than other types of gates, such as sliding and vertical lift gates. A swing gate opener (or swing gate operator) requires more space than other gates. It needs enough space to open fully to allow vehicles through a level area within the range the gate would need to open. This gate type can be a dual swing or single swing gate that opens to let both vehicles and pedestrians in and out of restricted areas.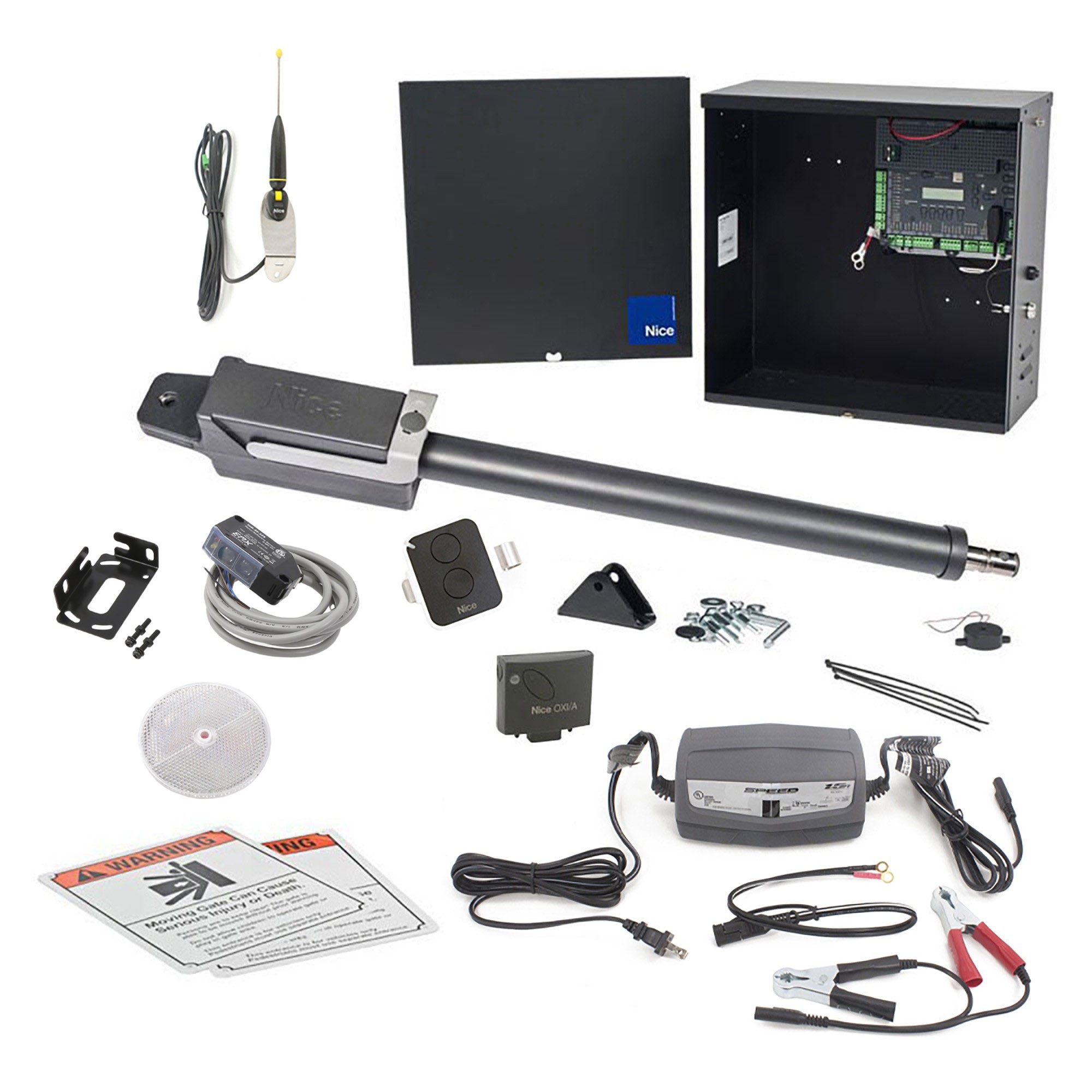 Nice Apollo TITAN 12L1 Swing Gate Opener 1050 Board - Includes Battery Charger, Photo Eye and Transmitter
If you want to add a swinging gate, the Nice Apollo Titan 12 L1 Swing Gate Opener is one of our most popular options. This model includes a battery charger, photo eye, and transmitter. This system is easy to install and solar panel capable. It features a 90-degree opening in approximately 14 seconds. It also includes a key lockable manual release for access during power outages and troubleshooting situations.
Solar Powered Gate Opener
Solar gate openers (or solar gate operators) simply gate opener that has a solar panel integrated into their system. These are great options to provide backup power in the case of an electrical outage or shortage.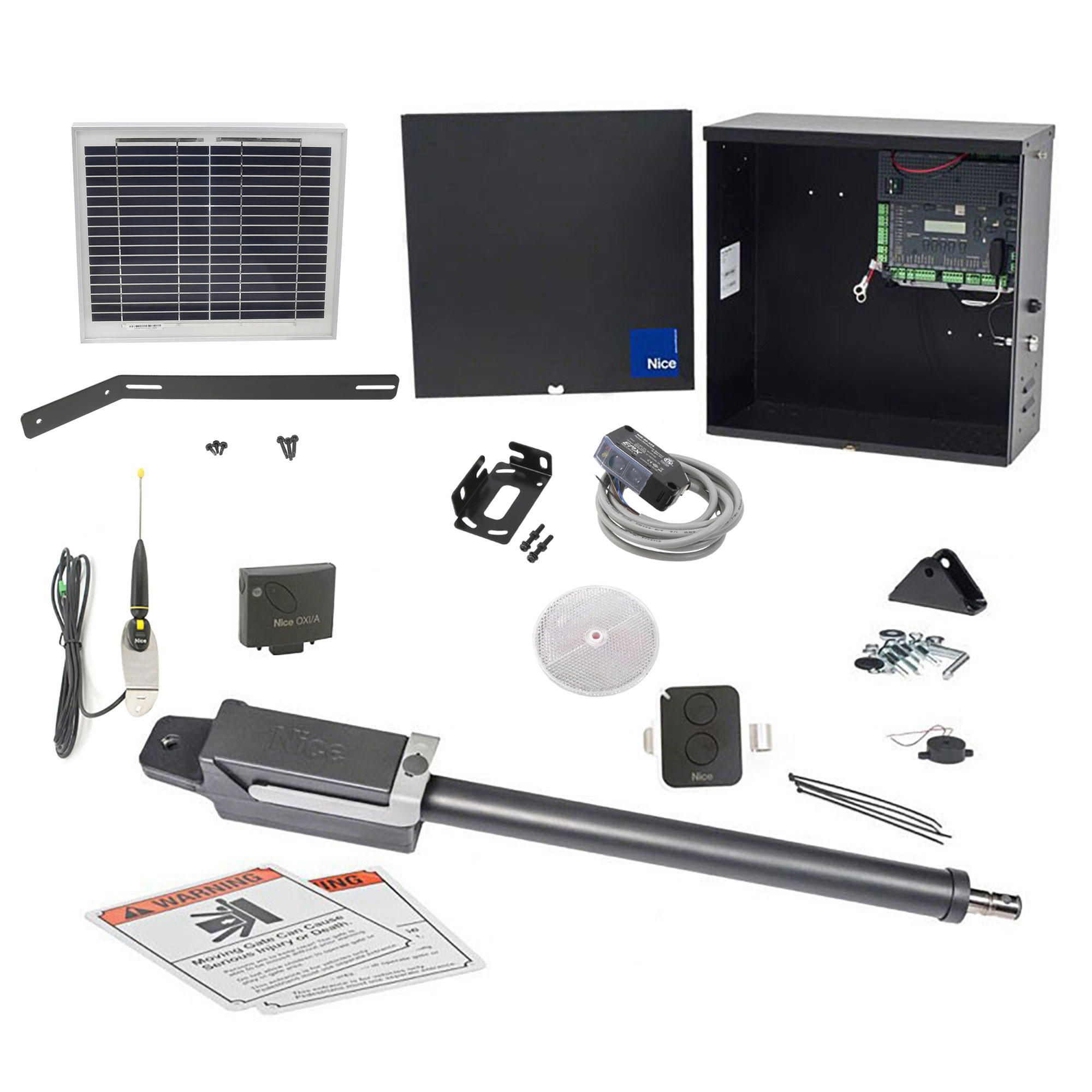 Nice Apollo Titan Arm Solar Bundle With Mercury 310 Controller Swing Gate Opener Kit
The Nice Apollo Titan Arm Solar Bundle is a very popular option for those looking at adding a solar-powered gate operator to their residential or commercial entranceways. They are also often used for farm and ranch driveways and roads. This system is designed for swing gate applications. With a fast opening and closing time of 14 to 16 seconds, the Nice Apollo Titan Arm is quiet, powerful, and field repairable. It can accommodate gates up to 20 feet long and 600 lbs. or 8 feet long at 1000 lbs. The added solar panel system helps to keep the gate operator running even when there is a lack of power options, such as a country road or off-grid entranceway.
Barrier Gate Opener
Barrier gate openers (or barrier gate operators) are a great way to add access control to a driveway or parking lot. They allow for the control of vehicle access into restricted or controlled areas.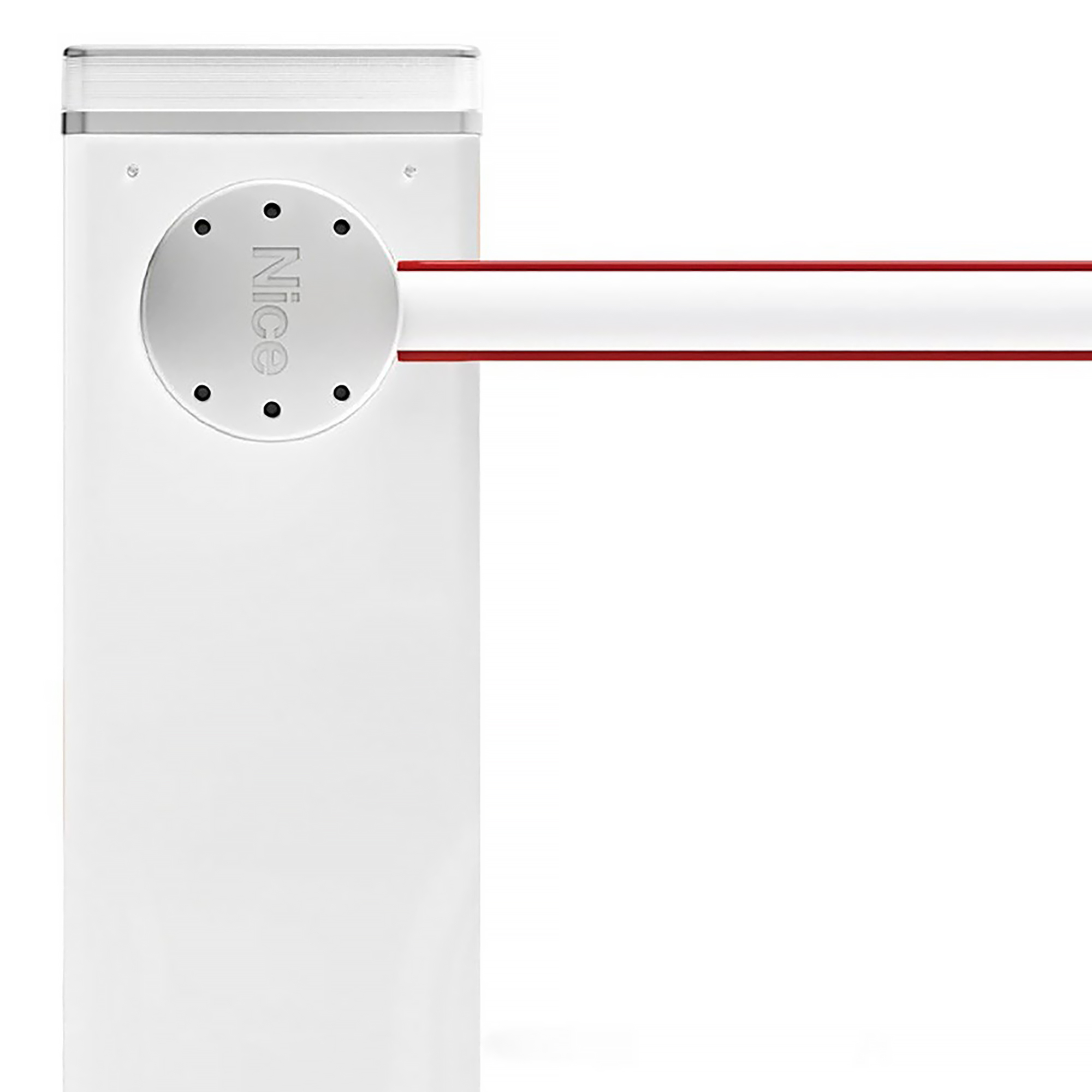 Nice Apollo M7BAR M-Bar Commercial Electromechanical Automatic Barrier Gate Opener for up to 23 ft Barrier Arms (White)
The Nice Apollo M7Bar M-Bar Barrier Gate Opener is our most popular barrier arm opener (or barrier arm operator). It is capable of handling barrier arms the length of 16.5 feet and up to 23 feet. With its steel construction, it is strong and reliable. When used with the optional built-in battery backup, the barrier arm opener will work in a blackout and, thanks to its energy-saving mode, will switch to an idle mode automatically when not in use. Safety sensors are also built in, including obstacle detection that reverses the arm on contact. Barrier gates help to restrict access to vehicles but do allow pedestrians and animals to pass through freely and safely. These gates are best suited for industrial and commercial purposes like parking lots or parking garages, toll booths, etc. Barrier gates require being built for a high level of use. Nice Apollo barrier gate motors are built to last.
Conclusion
Thank you for taking the time to read about the different types of gate operators and how to choose the best automatic gate opener on the market for you. With so many models, finding the proper gate opener for your needs can take time and effort. This article is meant to cover the best and most popular gate openers on the market for residential, commercial, and industrial uses. These are recommendations based on our customers. Automatic gate openers are a great way to add protection and convenience to your residential home, commercial or industrial property, or parking areas. Hopefully, we helped provide some valuable information and a few recommendations. If you have any other questions about which gate operator would work for you, please don't hesitate to contact our team, as we would be happy to assist.