Electric Automatic Gate Openers
Electricity consists of two polarities in which there are negative and positive. Alternating current (AC) alternates polarity back and forth while DC power, or direct current, does not alternate. Batteries and solar panels are only capable of direct current power. Gate operators are commonly AC operators powered by transformers to provide DC power to the operator motor and gate accessories. Depending on the property, access to an AC power point may not be feasible or reasonable, making solar power the best option.
Solar-Powered Automatic Gate Openers
The photovoltaic (PV) panel is mounted on top of a pole, allowing it to be closer to the sun than it would be on the ground without obstructions. These panels absorb the sun's rays and convert them into clean and renewable electricity, typically transferred directly to the power kit of the gate opener where its battery is stored. A portion of that energy goes towards powering the gate, while the rest is stored for later inside a battery within the power kit. This ensures that the gate can remain operational once the sun goes down by relying on this battery until it can begin the process all over again. Batteries will only absorb so much input of power that is self-monitored by built-in solar maintainers that can shut off the power supply from the panel. Gate usage, battery age, hours of sun absorption, and battery size are the best markers of solar system functioning than simply equating more solar panels with more power.
Slide Gate Openers
A slide gate opener or sliding gate operator is a rollback-style gate that retracts along a fence or wall on wheels or bearings. Sliding gate openers are a suitable solution for driveways with a steep incline and are favored by most commercial properties and cantilever gate systems. Nice, Apollo, and Hysecurity are only some of the most notable names in the gate opener industry that offer slide gate openers for commercial and residential applications with options for electric power or solar power.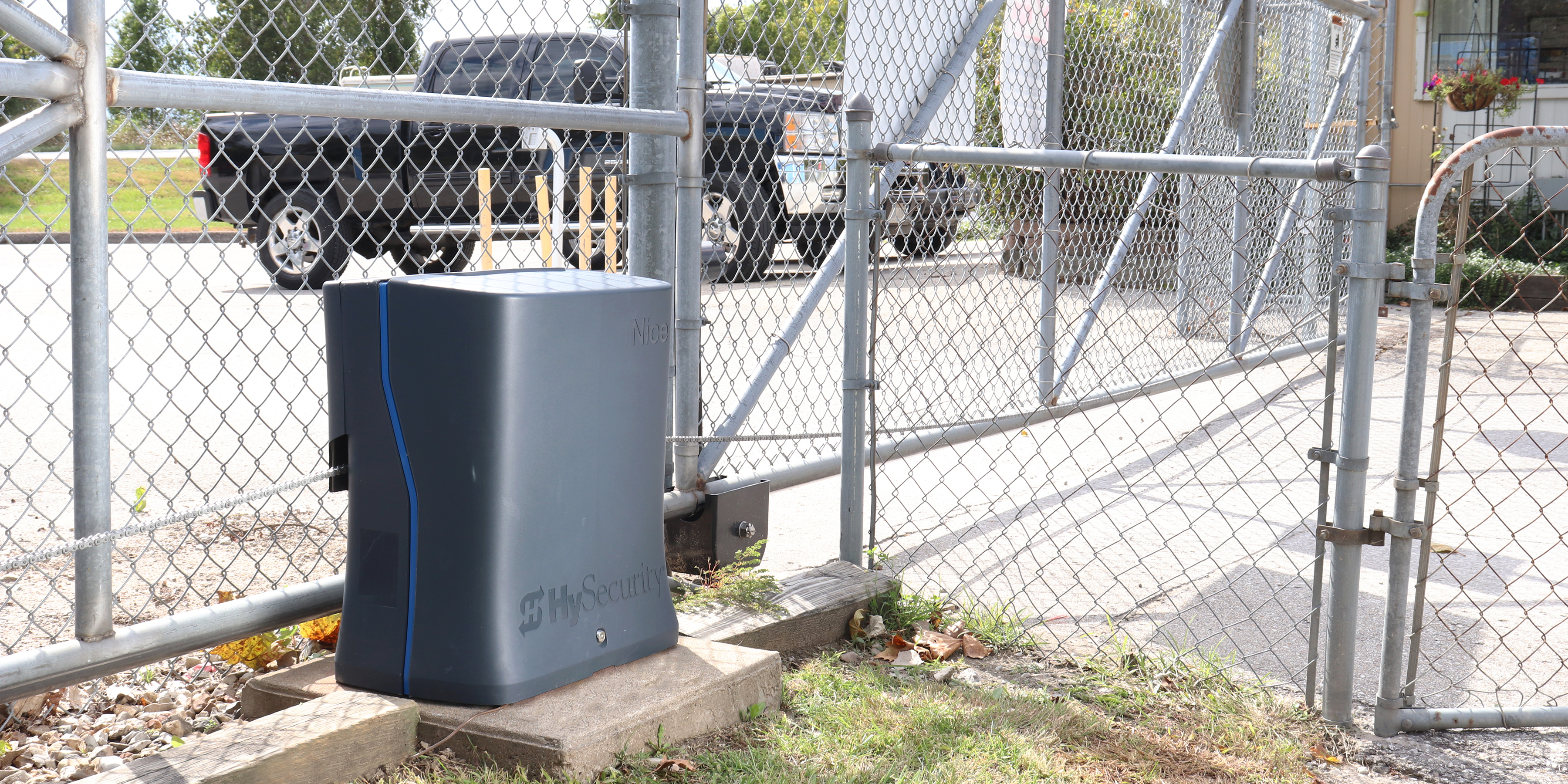 Nice HySecurity SlideSmart CNX 15 Slide Gate Opener Installation Shown
Nice Apollo Slide Gate Openers
Nice HySecurity Slide Gate Openers
Solar-Powered Slide Gate Openers
Off-grid solar panel kits provide reliable power to slide gate openers despite weather disturbances, downed power poles, rolling blackouts, and even natural disasters. Solar-powered gate openers require at least eight hours of direct sunshine for a full charge to rely on. Major benefits of solar power include tax credits, saving money on energy or electric bills, less environmental impact, no hidden installation costs, flexible installation, and full power during power outages. Commercial and residential properties that require a sliding gate opener without realistic accessible power are ideal candidates for solar-powered slide gate openers. Some installation sites cannot reach within 1000 feet of the gate opener's AC power point, and these difficult installations require far trenching and burying wires that are laborious and costly. Solar-powered sliding gate openers solve many gate operator installation issues with the added benefit of being transparent on upfront costs, unlike complicated landscapes prepared for electric-powered gate operators.
Benefits of Solar-Powered Slide Gate Openers
Affordability Then v. Now: Upfront costs of solar-power systems have proven over the years to be lucrative in the long run. Saving money on installation labor, electricity, and equipment, solar-powered slide gate openers were considered expensive in the past, primarily due to initial sticker shock, yet remain an investment that pays for itself in time. Costs of manufacturing photovoltaic (PV) panels have decreased through a decade of innovation in environmental sciences, providing consumers with affordable access to solar panel kits and slide gate opener power alternatives. Utilizing a renewable energy source for sliding gate openers protects consumers from fluctuating market prices of energy, cost of living increases, and unstable availability of resources. Solar-powered sliding gate openers qualify for a tax credit, and through an application process, a new solar gate system could be partially covered (up to 26%).


Ease of Installation & Compatibility: Solar-powered gate openers are straightforward to build when compared to electric gate openers that should always be installed by a professional to properly wire the gate opener and access the electricity for functionality. Because solar panels transfer their energy directly to the battery as well as the gate operator itself, this eliminates that need. Regular maintenance of solar panels includes keeping any foliage trimmed away to maintain direct contact with sunlight and cleaning the panel's surface a few times every year. While electric gate opener systems are generally bound to the location of the main building, solar panels can be placed practically anywhere that gets sunlight. This makes the importance of entrance location a non-issue, creating immense flexibility without extensive digging, trenching, running wires, or positioning. In addition, solar-powered slide gate openers can utilize accessories without limitations as the gate opener is still running off electricity technically, just a cleaner source. Gate Opener Accessories include but are not limited to keypads, card readers, remote controls, sensors, and more.
Power Outage Protection: Solar-powered slide gate openers store excess power in the battery as a reserve for when the sun is down. If the battery is protected and storing energy, then the sliding gate operator will continue to work regardless of an electrical power outage, eliminating the risk of short-circuiting.
Solar-Powered Slide Gate Opener Considerations
Gate Opener Compatibility: A solar-powered gate opener is simply an automatic electric gate opener with solar capabilities. The size of the slide gate is also a factor. Working with a professional to purchase the best solar kit for a currently installed slide gate opener is the best course of action to ensure the right components will seamlessly power the gate.
Slide Gate Traffic: Most residential slide gate openers are considered low traffic when referring to the number of times the slide gate opens and closes on an average day. Slide gate openers installed on commercial properties have a higher number of open/close cycles, correlating with the amount of power required to continue to power the gate. Contact us for guidance on solar-powered gate openers for high traffic applications or high-frequency use.
Geographic Location: Climate matters with solar-powered slide gate openers. Most of the United States is suitable to use solar power as a reliable energy source. However, northern areas see less sunlight on an average day. Refer to the Watthours Per Day Map to check your zone.
Need Help with a Solar-Powered Gate Opener?
As a leading distributor for Nice Apollo Gate Operators, we are devoted to providing high-quality operators in stock, ready to ship worldwide, and assembled in the USA. Well-versed in solar-powered gate opener packages, kits, add-ons, and installation requirements, we provide daily customer service for slide gate operators and solar-powered sliding gate opener systems.
Contact Us Now
---
Frequently Asked Questions:
How long do solar gate opener batteries last?
Automatic Sliding Gate Opener Batteries typically last 3-5 years. Utilizing solar-powered systems can reduce the cost of powering the gate and does not affect the battery's lifespan.
How do I power my driveway gate at night?
Solar-powered slide gate openers work effectively during the day and when the sun is down. Energy acquired from the solar panels is used and stored in the gate opener battery for future use. The solar panel will not produce electricity for the battery until it has access to sunlight to restore the reserve. Long stretches of overcast days can affect the amount of power acquired for the gate opener, minimizing the number of times it can be used.
What are the basic components of a solar-powered gate opener?
The four main components of a solar-powered gate operator are the solar panel, controller kit, batteries, and tube gate brackets. All components must be connected to the control kit, and the solar panel must have access to sunlight with the batteries installed near the solar panels to store the energy needed to power the gate opener at all times.
Are solar-powered gate openers safer than wired operators?
Solar-powered gate openers are considered less harmful to people than electric gate openers due to the current type. Electric gate openers use alternating current from the power grid. In contrast, solar-powered gate openers use a direct current with low voltage, proving to be less harmful in the event of a circuit leakage.
Can I use my remote open for solar-powered gate openers?
Yes. Accessories installed for Automatic Electric Gate Openers like remotes work just as well with solar-powered openers.