SlideSmart CNX Parts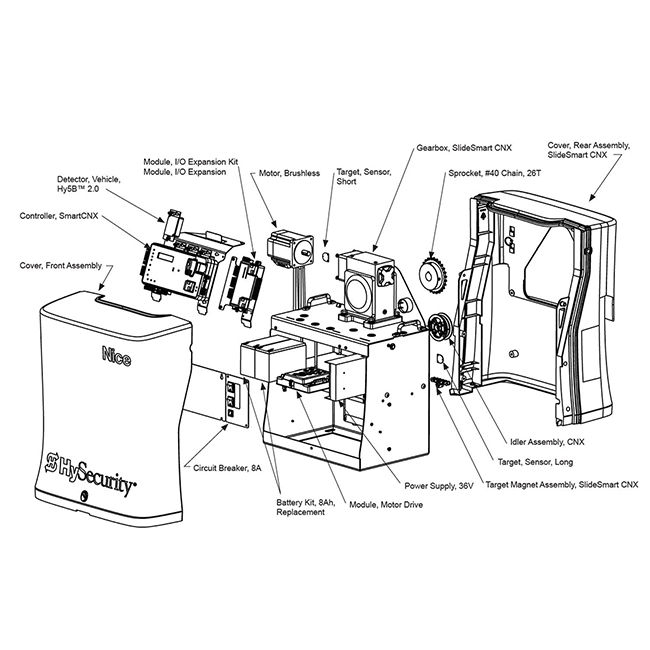 The Hysecurity Hy5B™ Vehicle Detector is a new and imporved loop detector module that is backwards compatible and plugs into the Smart Touch or Smart DC controllers. It features a digital interface, automatic sensitivity set up, and lightning resistance to protect the hardware from false trips.

Learn More

Back to top

The Brushless DC Motor for the SlideSmart CNX and SwingSmart CNX uses digitally controlled drive boards for increased reliability and an extended life span. More power than regular DC motors, this motor has increased accuracy controlling gate motion to ensure repeatable, reliable open and close limits.

Learn More

Back to top

Expansion board module provides 8 additional programmable relays and inputs. Includes bracket, hardware and communication cable MX4330

Learn More

Back to top

240VAC, 8A circuit breaker and panel mount for SlideSmart CNX and SwingSmart CNX models

Learn More

Back to top

Nice HySecurity I/O Expansion Board Module Replacement Kit For SmartCNX Openers - MX5183

Learn More

Back to top

The Nice Apollo SmartCNX Controller manages all operator functions and settings through a simple programmable interface and features HyNet remote management technology, intelligent inputs that work with 10K or pulsed monitored sensors and a 32-character OLED display. With an extended history event log, it's truly an intelligent controller for your operator and thanks to the SmartCNX installer smartphone app, you can manage your gate operator functions from anywhere you have a wireless connection.

Learn More

Back to top

Nice HySecurity Motor Drive Module Controller Board Replacement Kit for Brushless DC Motor - MX5185

Learn More

Back to top

Still not sure what part you're looking for? We're here to help! Our trained professionals are available by phone at 800-878-7829 or by email at Sales@ApolloGateOpeners.com.