Details
Please check your gate opener before ordering to ensure you have a compatible receiver. You must have either a Nice OXI/A, SMXI/A, FLOX2R/A, or 318N receiver. All receivers must contain the "/A" as these are only compatible with the US versions. See below for what these receivers look like. Please call if you are unsure if this is compatible with your system (800) 878-7829.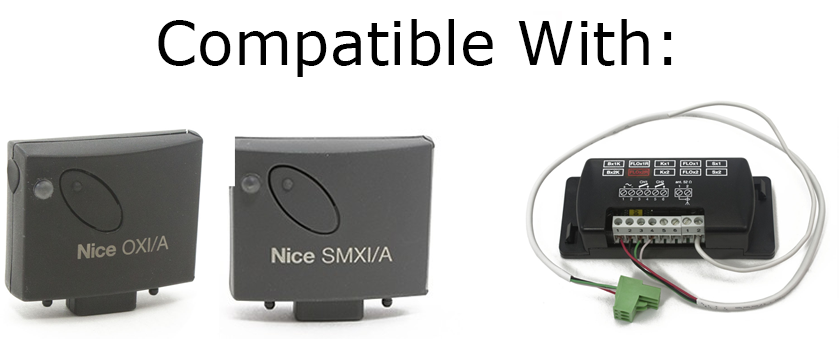 The Nice Apollo EDSWG/A is a battery-powered, 100% wireless keypad intended for use with Apollo Swing, Slide, & Barrier Gate Operators.
It allows for easy programming of 2 different codes (3 when using plug-in style receiver [OXI/A or SMXI/A]), each up to 8 digits long. When used with plug-in receiver and 1050 control board, each access code can be programmed for different radio channels/functions. The Apollo EDSWG/A is built to last and satisfy all of digital keypad needs.
Features
Three unique channels - each with unique access code (2 when using FLOX2R receiver).
Only compatible with Nice Apollo receivers.
Extremely strong metal casing, measuring only 27 millimeters in depth.
Two year battery life.
Working Temperature
-20°C to +55°C
Sounds
Acoustic tones when numbers are entered.
Visuals
The backlit keypad display makes for perfect use even in areas with little or no light.
Dimensions
70 x 70 x 27 mm
Frequency
433.92 MHz ± 100 KH
Weight
215g
Note: If forgotten, access codes cannot be reset. You will need to contact technical support for assistance.
Additional Information
| | |
| --- | --- |
| SKU | EDSWG/A-WHSALE2016 |
| Solar Package | Yes |
| Manufacturer | Nice Apollo Gate Operators |
| Condition | New |
| Warranty | Two Year Manufacture Limited Warranty |